Eric Jones Wins King Of The Mountain GTO Race At Utah Motorsports Campus
Round Two of Utah Sport Bike Association Law Tigers Masters of the Mountains Road Racing series was held on June 8-9 at Utah Motorsports Campus, East Configuration in Grantsville, UT. The patience and perseverance of veteran rider Eric Jones paid off as he took home the win in the Premier KoM Class.
"Today's win in KOM-O has been 11 years in the making. Ever since I started racing with the club in 2008 I have had my eye on winning the KOM-O class, but it always seemed like more of a dream than a reality. This win put a punctuation mark on my racing career and looking back at where I started 11 years ago I have definitely climbed a mountain. But I honestly hope this is the first of many wins to come and not just a one-time fluke. I love this club (served as membership directing 2011) and I love the sport, and lately I've enjoyed racing with my 3 sons as well (Braden, Jade, and Brock). I hope one day they can all rise to the top and be contenders in KOM-O with Jones racing team placing 1st, 2nd, 3rd and 4th in KOM-O, it all starts with a dream," said Jones.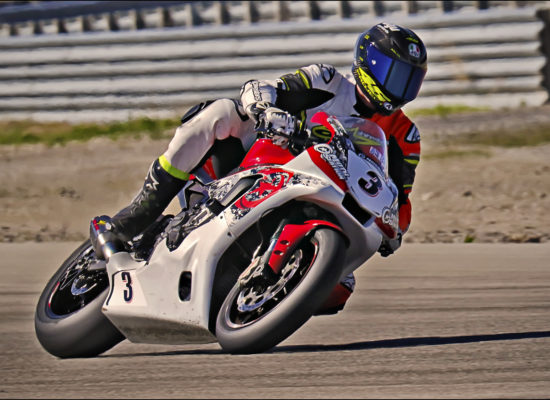 Erik Grim won Stock 1000 for the second round in a row. Grim, a proud father to his new son Otis, raced to victory with his family by his side.  Grim said, "My race went great right from the start. I rounded the first turn in third place and used the next few laps to work my way to the front. Once in the lead I found a good rhythm and settled in until the checkers. I'd like to thank Vortex Racing for supporting me, the UtahSBA for putting on a great series, and most of all my loving family; Wife Maria, Son Otis, and our late Daughter Olive."
Adding to his four wins from Round One, Novice Racer Jason Grant scored five more Round Two wins in Combined GTO, Deseret Dash 2, Novice GTU, Combined GTU, and Novice GTO.  It is also a family affair for the Grants. "This was a special weekend racing with the USBA for me as my son, Jasper, was competing in his first race weekend alongside his brother Liam and me. The weather was perfect, and I was able to get up to speed quickly in practice Friday and translate that into consistent laps and race results over the course of the weekend.  I want to thank Ken Hill for his coaching and support over the offseason that has helped me to find much better pace and consistency with the R6 this year.  Thanks also to Geoff Cesmat and Phil Horwitz for their support on and off the track this weekend," said Grant.
With plans to compete in the upcoming MotoAmerica Round Five at UMC June 15-16, Jason Johnson took four, first place finishes over the weekend. Johnson said, "I went into Saturday practice with a positive attitude and the bike felt great but unfortunately I made a mistake going into turn 1 and crashed on the brakes in the last practice session of the day. I was quickly checked by the medical staff who did a great job of getting me out fast. I was able to get to the pits in time to hop on a Ducati 848 I was riding for the first time and went out in the next race (Moto 2). Later in the day I won Open Twins on the Ducati as well. I rode my backup ZX6R in several races sat and sun wining two (Modern Vintage GTU and Mid Superstock). I made the decision Sunday to skip the KOM race and spent the time putting my crashed "A" bike back together with parts from my "B" bike. I raced two races on it, using the first to feel out the bike for any issues before winning Formula 40 GTU leading flag to flag with some really fast riders on track. All in all, it was a great weekend and I'm always amazed by the ups and downs of this sport. I went from crashing to winning in the same day. The help I received from everyone in the paddock was amazing. Utah SBA does a great job of keeping things going and making us all feel like family. The challenges bring out the best in all of us. I could not have done it without the support of my wife Jen and my daughter Hayden. We are self-sponsored under our shop Mountain Autosport out of Bozeman Montana."
Moto Station riders Brian Childree and Jerry Hicks took podiums in six-of-six races over the weekend. Childree has this to say about his weekend; "We started off with Heavyweight SBK, Kory Cowan and I got away at the front and were clicking off low 1:36s which was a pretty decent pace considering the track conditions but halfway through the race Kory had a mechanical and had to pull off which was a bummer since it put him out for the rest of the day.  KOM has a combined 600 and 1000 grid which makes things pretty hectic.  Jerry Hicks and I both had better race pace than all the 1000s but it's so hard to pass them on East.  We managed to work our way to 2nd and 3rd but ran out of laps before either of us could secure the lead.  Congrats to Eric Jones for taking the KOM win and to Jerry Hicks for setting the fastest lap of the weekend with a 1:35.7.
The highlight of the weekend for me was my race win in Middleweight Superbike.  I got a great start and lead into turn 1.  I got into a good rhythm and was able to set consistent low 1:36s all race and even set my fastest lap of the weekend on tires with well over 25 laps on them. Just goes to show how good the Pirelli tires are at this track. Huge thanks to Moto Station and Kory Cowan for all the support, I'm proud to be a part of the Moto Station team." 
Hicks had this to say about the Premier KoM race. "What a race!  I didn't qualify great, so I was starting on the third row and when most of the grid is on 1000s and I'm on a 600, I knew it was going to be a fight to get to the front.  It wasn't until about 1/2 distance that the guys on the 1000s began to fade and lose grip.  I started making some passes and managed to get up to second place.  I pushed hard and was able to chase down Eric Jones but then I had to get past him.  I could see he was struggling in a few spots, but it wasn't until the last lap that I was able to make a pass.  I got up the inside going into the first attitude, but he managed to cut back and block me into the second attitude.  The pass messed up my drive onto the straight and there just wasn't enough corners left to try another pass.  It was a fun race and I'm happy with the win in KOM GTU and second in the KOM overall.  Huge thanks to Kory Cowan for all the help he's given me and to the entire Moto Station crew."
In addition to the lessons being taught by Hicks and Childree on the track, they will be hosting the first Advanced Racer Course on Friday July 12 at UMC. The course is for UtahSBA members who already hold a race license.  This course is designed to improve the racing experience for riders looking to move their own programs forward.  Space is limited to 15 students. Round 3 will be held July 13-14, 2019 at UMC, West Configuration. Registration is open now for both events.  Register before July 6, 2019 to receive the early-bird discount rate for race Round 3. Visit www.motorsportsreg.com to register today.
The UtahSBA is a Utah Non-Profit dedicated to promoting education, safe riding, and competition in the Intermountain West.  You can find more information about the UtahSBA, upcoming events, and schools atwww.utahsba.com or find us on Facebook at https://www.facebook.com/utahsba/  
Harrison Eurosports Combined GTO
Jason Grant (Yam YZF-R6)
Helmut Kohler Jr (Yam YZF-R1)
Rick Squires (Hon CBR1000RR)
Kellen Birch (Yam YZF-R6)
Zach Austin (Tri  675R)
Clive Savacool (Suz GSX-R750)
The Edge Powersports Deseret Dash 1 (Expert)
Steven Marco (Yam YZF-R1)
Eric Jones (Yam YZF-R1)
Justin Delong (Yam YZF-R1)
Zac Miller (BMW S1000RR)
Ryan McGowan (Kaw ZX-10R)
Helmut Kohler Jr (Yam YZF-R1)
The Edge Powersports Deseret Dash 1 (Novice)
Rick Squires (Hon CBR1000RR)
Jason Grant (Yam YZF-R6)
Zach Austin (Tri  675R)
Ryan Podgurney (Kaw ZX-6R)
Myroslav Volkov (Kaw ZX-10R)
Corey Vlastuin (Yam YZF-R1)
The Edge Powersports Deseret Dash 2 (Expert)
Eric Jones (Yam YZF-R1)
Zac Miller (BMW S1000RR)
Bill Davis (BMW S1000RR)
Steven Marco (Yam YZF-R1)
Braden Jones (Yam YZF-R1)
Ryan McGowan (Kaw ZX-10R)
The Edge Powersports Deseret Dash 2 (Novice)
Jason Grant (Yam YZF-R6)
Ryan Podgurney (Kaw ZX-6R)
Corey Vlastuin (Yam YZF-R1)
Myroslav Volkov (Kaw ZX-10R)
Zach Austin (Tri  675R)
Nicholas Schmit (Suz GSX-R1000)
Trackstar Racing Middleweight Superstock
Jason Johnson (Kaw ZX-6R)
Cole Phillips (Yam YZF-R6)
Kellen Birch (Yam YZF-R6)
Joseph Clark (Yam YZF-R6)
Andrew Blunt (Yam YZF-R6)
Jeff Dinger (Hon CBR600RR)
Fastline Race Tire Moto2
Kory Cowan (Yam YZF-R6)
Jerry Hicks (Yam YZF-R6)
Brian Childree (Yam YZF-R6)
Kellen Birch (Yam YZF-R6)
James Powelson (Yam YZF-R6)
Jason Johnson (Kaw ZX-6R)
The Edge Powersports Moto3
Liam Grant (Kaw EX400)
David Purcell (Kaw EX400)
Karen Ogura (Yam YZF-R3)
Brad Moore (Yam YZF-R3)
Mark Taylor (Kaw EX500)
Brock Jones (KTM 390)
Inspired Financial Novice GTU
Jason Grant (Yam YZF-R6)
Ryan Podgurney (Kaw ZX-6R)
Lee McNutt (Yam YZF-R6)
James Krstich (Yam YZF-R6)
Peter Hofpointner (Yam YZF-R6)
Adam Kownatka (Kaw ZX-6R)
South Valley Motorsports Open Superstock
Kory Cowan (Yam YZF-R6)
Brian Childree (Yam YZF-R6)
Jerry Hicks (Yam YZF-R6)
Zac Miller (BMW S1000RR)
Steven Marco (Yam YZF-R1)
Ryan McGowan (Kaw ZX-10R)
The Green Pig Pub Open Twins
Jason Johnson (Duc 848)
Donald Rothfuss (Duc 848)
James Kling (Duc 1198)
James Riggs (KTM RC8R)
Daniel Egbert (Duc 1199)
Zack Cooper (Duc 959)
Wright's M/C Parts & Accessories Production 300 (Race 1)
Phil O'Bryan (Kaw EX300)
Russell Carpenter (Kaw EX300)
Brock Jones (KTM 390)
Adrenaline Motorsports Production 500 (Race 1)
Liam Grant (Kaw EX400)
David Purcell (Kaw EX400)
Karen Ogura (Yam YZF-R3)
Brad Moore (Yam YZF-R3)
Jasper Grant (Yam YZF-R3)
Phil O'Bryan (Kaw EX300)
Moto United Sportsman (Race 1)
Nicholas Schmit (Suz GSX-R1000)
James Kling (Duc 1198)
Liam Grant (Kaw EX400)
Adam Kownatka (Kaw ZX-6R)
Zack Cooper (Duc 959)
Jade Jones (Yam YZF-R6)
Kimco Combined GTU
Jason Grant (Yam YZF-R6)
Ryan Podgurney (Kaw ZX-6R)
James Powelson (Yam YZF-R6)
Zach Austin (Tri  675R)
Cole Phillips (Yam YZF-R6)
Kellen Birch (Yam YZF-R6)
Harrison Eurosports Formula 40 – GTO
Bill Davis (BMW S1000RR)
Ryan McGowan (Kaw ZX-10R)
David Meyer (Suz GSX-R1000)
Alex Zinaich (BMW S1000RR)
Kevin Dolan (Suz GSX-R1000)
Lee McNutt (Suz GSX-R750)
Harrison Eurosports Formula 40 – GTU
Jason Johnson (Kaw ZX-6R)
Michael Pond (Yam YZF-R6)
Jason Grant (Yam YZF-R6)
Adam Kownatka (Kaw ZX-6R)
Phil O'Bryan (Kaw ZX-6R)
LaMonica's Restaurant Equipment Service Heavyweight Superbike
Brian Childree (Yam YZF-R6)
Jerry Hicks (Yam YZF-R6)
Kellen Birch (Yam YZF-R6)
Jason Johnson (Kaw ZX-6R)
Clive Savacool (Suz GSX-R750)
Cole Phillips (Yam YZF-R6)
Moto Station / Rickdiculous Racking KOM Overall
Eric Jones (Yam YZF-R1)
Jerry Hicks (Yam YZF-R6)
Brian Childree (Yam YZF-R6)
Zac Miller (BMW S1000RR)
Bill Davis (BMW S1000RR)
Ryan McGowan (Kaw ZX-10R)
Moto Station KOM GTO
Eric Jones (Yam YZF-R1)
Zac Miller (BMW S1000RR)
Bill Davis (BMW S1000RR)
Ryan McGowan (Kaw ZX-10R)
Duncan Biles (Yam YZF-R1)
Genaro Lopez (BMW S1000RR)
Rickdiculous Racing KOM GTU
Jerry Hicks (Yam YZF-R6)
Brian Childree (Yam YZF-R6)
Andrew Blunt (Yam YZF-R6)
AZ Racing Academy Lightweight SuperBike
Karen Ogura (Yam YZF-R3)
Liam Grant (Kaw EX400)
Brad Moore (Yam YZF-R3)
Mark Taylor (Kaw EX500)
Jeff Masters (Yam FZ-07)
Moto Station Middleweight Superbike
Brian Childree (Yam YZF-R6)
Jerry Hicks (Yam YZF-R6)
Kellen Birch (Yam YZF-R6)
James Powelson (Yam YZF-R6)
Michael Pond (Yam YZF-R6)
Jason Johnson (Kaw ZX-6R)
The Mechanic Modern Vintage – GTO
Kevin Dolan (Suz GSX-R1000)
Clive Savacool (Suz GSX-R750)
Myroslav Volkov (Kaw ZX-10R)
Lee McNutt (Suz GSX-R750)
Spencer Kruger (Suz GSX-R750)
Goran Bojanic (Suz GSX-R1000)
The Mechanic Modern Vintage – GTU
Jason Johnson (Kaw ZX-6R)
Cole Phillips (Yam YZF-R6)
Joseph Tapia (Yam YZF-R6)
Phil O'Bryan (Kaw ZX-6R)
Thomas Dark (Suz GSX-R600)
Braxton Young (Hon CBR600RR)
Harrison Eurosports Novice GTO
Jason Grant (Yam YZF-R6)
Zach Austin (Tri  675R)
Myroslav Volkov (Kaw ZX-10R)
Ryan Podgurney (Kaw ZX-6R)
James Riggs (Yam YZF-R1)
Corey Vlastuin (Yam YZF-R1)
Moto Station Open Superbike
Jerry Hicks (Yam YZF-R6)
Brian Childree (Yam YZF-R6)
Bill Davis (BMW S1000RR)
Genaro Lopez (BMW S1000RR)
Duncan Biles (Yam YZF-R1)
Alex Zinaich (BMW S1000RR)
Wright's M/C Parts & Accessories Production 300 (Race 2)
Adam Kownatka (Kaw EX300)
Phil O'Bryan (Kaw EX300)
Adrenaline Motorsports Production 500 (Race 2)
Liam Grant (Kaw EX400)
Karen Ogura (Yam YZF-R3)
David Purcell (Kaw EX400)
Brad Moore (Yam YZF-R3)
Mark Taylor (Kaw EX500)
Brock Jones (KTM 390)
Moto United Sportsman (Race 2)
Matt Gravina (Duc V4)
Braxton Young (Hon CBR600RR)
Jasper Grant (Yam YZF-R3)
C&R Coatings Stock 1000
Erik Grim (BMW S1000RR)
Sean Thomas (Suz GSX-R1000)
Ryan McGowan (Kaw ZX-10R)
Bill Davis (BMW S1000RR)
Alex Zinaich (BMW S1000RR)
Genaro Lopez (BMW S1000RR)