ROUND 1 RACE REPORT
Kory Cowan Master Class
This past weekend was Round 1 of Utah Sport Bike Associations Law Tigers Masters of the Mountains Road Racing series at Utah Motorsports Campus in Grantsville, UT. The star of the weekend was Moto Station racer Kory Cowan, picking up 6 first place finishes.
"It was a pretty good weekend overall for me and the entire Moto Station team.  Personally, I had a good weekend taking 6 wins in all 6 classes that I entered but my favorite part was Moto Station riders taking all three steps of the podium in 5 of those 6 classes including taking the entire podium of the premiere King of the Mountain class.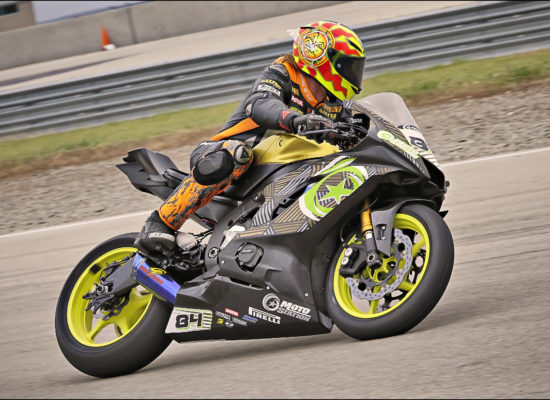 The weather made things a little more tricky; with cold temps, wind and rain, none of us were out there chasing lap records but despite that, the Pirelli tires worked great.  Also, I have to say thanks to the entire Utah Sport Bike Association group.  The weather was tough, there was some technical difficulties, but they managed it and still put on a fun event.  I'm happy that myself and Moto Station are able to be a part of this community." said Cowan.
Our rising star Liam Grant also cleaned house winning all three of his races. At 15 years old, Grant was our youngest competitor of the weekend. "Conditions were tricky this weekend with some wet, some dry and some mixed condition races.  It was important to stay focused and adjust to the changing weather within and between each race.  I was fortunate to win all 4 of my races including my first rain race of the season." said Grant.
Another impressive racer this weekend was Mark Taylor, who completed his New Racer Certification last month. Taylor competed in 11 different races this weekend. With six top six place finishes, we will all be keeping an eye on Taylor next round.
Winner of Open Twin, Jeff Dinger had this to say about the race; "It was an interesting first lap as I was struggling with shifting problems… I finally got myself together and calmed, put my head down, focused and ran my own race for a decent victory on these new great Dunlop tires from Ian and Ryan Richardson."
Our surprise competitor returning from a major injury last weekend was Zac Miller. Miller finished second in KOM GTO and had this to say; "What a way to return from injury and start my third year of racing! The weather conditions were wild, and I did my best to learn from Cowan, Childree and Hicks as they demonstrated their experience and speed today. Thanks to Kory Cowan for the constant race support and help, Moto Station for building and maintaining my bike, and to my family for coming out to cheer me on. I'm already looking forward to UtahSBA Round 2!"
Round 2 will be held June 8-9, 2019 at UMC, East Configuration. Registration is open now.  Register before June 1, 2019 to receive the early-bird discount rate. Visit www.motorsportsreg.com to register now.
The UtahSBA is a Utah Non-Profit dedicated to promoting education, safe riding, and competition in the Intermountain West.  You can find more information about the UtahSBA, upcoming events, and schools atwww.utahsba.com or find us on Facebook at https://www.facebook.com/utahsba/  
Harrison Eurosports Combined GTO
Jason Grant (Yam YZF-R6)
Jeff VanDerVoort (Yam YZF-R6)
Kellen Birch (Yam YZF-R6)
Jeff Dinger (Honda RC51)
Gilbert Gonzalez (Yam YZF-R1)
Thomas Dark (Suz GSX-R600)
The Edge Powersports Deseret Dash 1 (Expert)
Steven Marco (Yam YZF-R1)
Brad Morris (Yam YZF-R1)
Andrew Skov (Suz GSX-R1000)
Ryan McGowan (Kaw ZX-10R)
Jason Johnson (Kaw ZX-6R)
David Meyer (Suz GSX-R1000)
The Edge Powersports Deseret Dash 1 (Novice)
Jason Grant (Yam YZF-R6)
Ryan Podgurney (Kaw ZX-6R)
Zach Austin (Tri 675R)
James Krstich (Yam YZF-R6)
James Riggs (Yam YZF-R1)
Rick Squires (Hon CBR600RR)
The Edge Powersports Deseret Dash 2 (Expert)
Zac Miller (BMW S1000RR)
Steven Marco (Yam YZF-R1)
Ryan McGowan (Kaw ZX10R)
Duncan Biles (Yam YZF-R1)
Kevin Dolan (Suz GSX-R1000)
Jeff VanDerVoort (Yam YZF-R6)
The Edge Powersports Deseret Dash 2 (Novice)
Ryan Podgurney (Kaw ZX6R)
Jason Grant (Yam YZF-R6)
Rick Squires (Hon CBR600RR)
Myroslav Volkov (Kaw ZX-10R)
Nate McConnell (Yam YZF-R1)
Nicholas Schmit (Suz GSX-R1000)
Trackstar Racing Middleweight Superstock
Jeff VanDerVoort (Yam YZF-R6)
Jason Johnson (Kaw ZX-6R)
Andrew Blunt (Yam YZF-R6)
Cole Phillips (Yam YZF-R6)
Jeff Dinger (Hon CBR600RR)
Jerry Carson (Suz GSX-R600)
Fastline Race Tire Moto2
Kory Cowan (Yam YZF-R6)
Brian Childree (Yam YZF-R6)
Jerry Hicks (Yam YZF-R6)
Andrew Blunt (Yam YZF-R6)
Jason Johnson (Kaw ZX-6R)
Kellen Birch (Yam YZF-R6)
The Edge Powersports Moto3
Liam Grant (Kaw EX400)
David Purcell (Kaw EX400)
Brian Jackson (Kaw EX400)
Brad Moore (Yam YZF-R3)
Mark Taylor (Kaw EX500)
Phil O'Bryan (Kaw EX300)
Inspired Financial Novice GTU
Ryan Podgurney (Kaw ZX-6R)
Jason Grant (Yam YZF-R6)
Zach Austin (Tri  675R)
Raymond Clark (Suz GSX-R600)
Joseph Tapia (Yam YZF-R6)
Darryl Sheets (Yam YZF-R6)
South Valley Motorsports Open Superstock
Kory Cowan (Yam YZF-R6)
Brian Childree (Yam YZF-R6)
Jerry Hicks (Yam YZF-R6)
Erik Grim (BMW S1000RR)
Zac Miller (BMW S1000RR)
Ryan McGowan (Kaw ZX-10R)
The Green Pig Pub Open Twins
Jeff Dinger (Hon RC51)
Donald Rothfuss (DUC 848)
James Riggs (KTM RC8R)
James Kling (Duc 1198)
Jeff Masters (Yam FZ-07)
Daniel Egbert (Duc 1199S)
Wright's M/C Parts & Accessories Production 300 (Race 1)
Phil O'Bryan (Kaw EX300)
Adrenaline Motorsports Production 500
Liam Grant (Kaw EX400)
David Purcell (Kaw EX400)
Brian Jackson (Kaw EX400)
Mark Taylor (Kaw EX500)
Brad Moore (Yam YZF-R3)
Phil O'Bryan (Kaw EX300)
Moto United Sportsman (Race 1)
Nicholas Schmit (Suz GSX-R 1000)
Adam Kownatka (Kaw ZX-6R)
Devon Sosniuk (Yam YZF-R6)
Michael Montgomery (Kaw ZX-6R)
Max Tseng (Yam YZF-R6)
James Kling (Duc 1198)
Kimco Combined GTU
Jason Grant (Yam YZF-R6)
Ryan Podgurney (Kaw ZX-6R)
James Powelson (Yam YZF-R6)
Zach Austin (Tri 675R)
Kellen Birch (Yam YZF-R6)
Cole Phillips (Yam YZF-R6)
Harrison Eurosports Formula 40 – GTO
Kevin Dolan (Suz GSX-R1000)
Ryan McGowan (Kaw ZX-10R)
Mark Taylor (Kaw EX500)
Harrison Eurosports Formula 40 – GTU
Jason Johnson (Kaw ZX-6R)
James Krstich (Yam YZF-R6)
Jason Grant (Yam YZF-R6)
LaMonica's Restaurant Equipment Service Heavyweight Superbike
Kory Cowan (Yam YZF-R6)
Brian Childree (Yam YZF-R6)
Jason Johnson (Kaw ZX-6R)
Kellen Birch (Yam YZF-R6)
James Powelson (Yam YZF-R6)
Moto Station / Rickdiculous Racking KOM Overall
Kory Cowan (Yam YZF-R6)
Brian Childree (Yam YZF-R6)
Jerry Hicks (Yam YZF-R6)
Zac Miller (BMW S1000RR)
Ryan McGowan (Kaw ZX-10R)
Genaro Lopez (BMW S1000RR)
Moto Station KOM GTO
Kory Cowan (Yam YZF-R6)
Zac Miller (BMW S1000RR)
Ryan McGowan (Kaw ZX-10R)
Genaro Lopez (BMW S1000RR)
Duncan Biles (Yam YZF-R1)
Kevin Dolan (Suz GSX-R1000)
Rickdiculous Racing KOM GTU
Brian Childree (Yam YZF-R6)
Jerry Hicks (Yam YZF-R6)
Jeff VanDerVoort (Yam YZF-R6)
Jason Johnson (Kaw ZX-6R)
AZ Racing Academy Lightweight SuperBike
Liam Grant (Kaw EX400)
Jeff Masters (Yam FZ-07)
Mark Taylor (Kaw EX500)
Moto Station Middleweight Superbike
Kory Cowan (Yam YZF-R6)
Brian Childree (Yam YZF-R6)
Jerry Hicks (Yam YZF-R6)
Jason Johnson (Kaw ZX-6R)
James Powelson (Yam YZF-R6)
Alex Zinaich (Tri 675R)
The Mechanic Modern Vintage – GTO
Kevin Dolan (Suz GSX-R1000)
Spencer Kruger (Suz GSX-R750)
Jeff Dinger (Hon RC51)
Gilbert Gonzalez (Yam YZF-R1)
Myroslav Volkov (Kaw ZX-10R)
Edwin Hofeling (Suz GSX-R750)
The Mechanic Modern Vintage – GTU
Jason Johnson (Kaw ZX6R)
Cole Phillips (Yam YZF-R6)
Devon Sosniuk (Yam YZF-R6)
Joseph Tapia (Yam YZF-R6)
Michael Montgomery (Kaw ZX-6R)
Mark Taylor (Kaw EX500)
Harrison Eurosports Novice GTO
Jason Grant (Yam YZF-R6)
James Krstich (Yam YZF-R6)
Myroslav Volkov (Kaw ZX-10R)
Joseph Tapia (Yam YZF-R6)
Michael Montgomery (Kaw ZX-6R)
Mark Taylor (Kaw EX500)
Moto Station Open Superbike
Kory Cowan (Yam YZF-R6)
Jerry Hicks (Yam YZF-R6)
Duncan Biles (Yam YZF-R1)
Erik Grim (BMW S1000RR)
Genaro Lopez (BMW S1000RR)
Nick Sosniuk (BMW S1000RR)
Wright's M/C Parts & Accessories Production 300 (Race 2)
Adam Kownatka (Kaw EX300)
C&R Coatings Stock 1000
Erik Grim (BMW S1000RR)
Ryan McGowan (Kaw ZX-10R)
Andrew Skov (Suz GSX-R1000)
Genaro Lopez (BMW S1000RR)
Jason Grant (Kaw ZX-10RR)
Alex Zinaich (BMW S1000RR)