UtahSBA Hosts 19 Students During New Racer Certification (NRC) School At UMC
The UtahSBA held its first of two New Racer Certification (NRC) schools this past Saturday at Utah Motorsports Campus, East configuration. There were 19 students in attendance, with five dedicated instructors guiding them throughout the day. Since the event was not held during a race day, several other racers and board members were able support the students on and off the track. All student successfully completed the class and 17 of them purchased a 2019 UtahSBA race license.
The NRC is a one-day event that is held in conjunction with Apex Trackdays.  Apex runs the day with three sessions per hour, with all NRC participants running in the third, separate session from the track day riders.  Class room sessions are held before and between each track session and are a requirement to ride the track. Two mock racers are part of the curriculum to help students experience the thrill and excitement of racing, while still being instructed and provided feedback.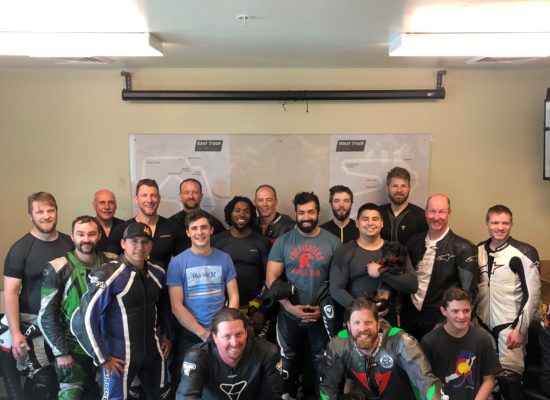 The next NRC will be held on July 12, 2019 at UMC, West configuration.  This will be the Friday prior to UtahSBA Round 3 and will be the last chance for new racers to take the school for the 2019 season. Stay tuned to https://www.utahsba.com/schools/ for registration to open soon.
The NRC is an introduction to track and race day procedures. For more rider and technique instruction, the UtahSBA also hosts the Advanced Rider Training (ART) program. The next ART will be held June 8, 2019, registration is open now.  Registration is also open for UtahSBA Round 1, May 18-19, 2019, register before May 11, 2019 to receive the early-bird discount rate. Visit www.motorsportsreg.com to register now for either of these events.
The UtahSBA is a Utah Non-Profit dedicated to promoting education, safe riding, and competition in the Intermountain West.  You can find more information about the UtahSBA, upcoming events, and schools at www.utahsba.com or find us on Facebook at https://www.facebook.com/utahsba/